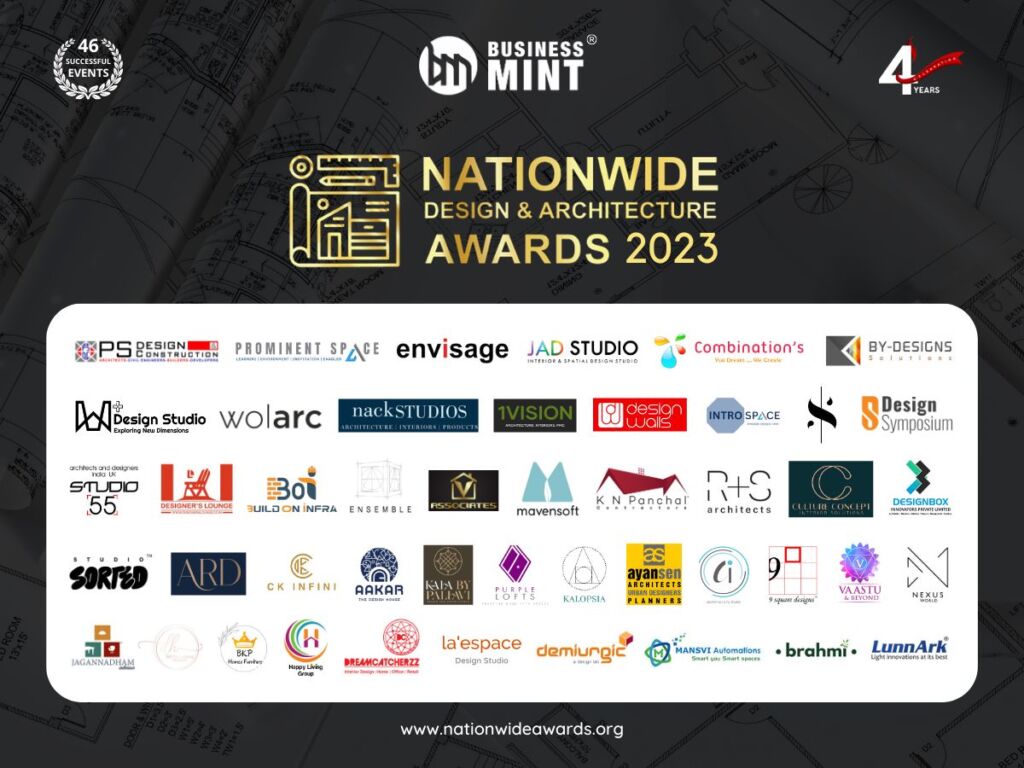 New Delhi (India), May 1: Business Mint, a leading market research & media consulting company, proudly announces the successful conclusion of the 46th Awards show under the category of "Design & Architecture." This event marks the third edition of the Nationwide Awards in the field of design and architecture, where Business Mint recognizes the top 75 companies and outstanding individuals in this industry.
The Nationwide Awards have become a prestigious platform to acknowledge and celebrate excellence in various sectors. Business Mint has been organizing these awards events both online and live, ensuring wider reach and participation from across the world. With 45 successful editions so far, the Nationwide Awards have gained immense recognition and have established themselves as a benchmark for achievement and innovation.
Under the category of "Design & Architecture," the Nationwide Awards seek to honor companies and individuals who have demonstrated exceptional talent, creativity, and expertise in their respective fields. The top 75 companies in the design and architecture sectors have been carefully selected based on their remarkable contributions and achievements in the industry.
In addition to recognizing companies, the Nationwide Awards also present special awards to outstanding individuals and top-performing companies that have significantly contributed to the design and architecture sectors.
The Top 75 Organizations in the Interior Design and Architectural Industry 
Archinnovatio Studio
Envisage
NEXUS WORLD
Studio 55 Architects and Designers
Combination's
W+ Design Studio
Culture Concept Interior Solutions
BY – DESIGNS Solutions
Wolarc
AAKAR – THE DESIGN STUDIO
Ayansen Architects
Designer's Lounge
1VISION
Asumi Rawat design
Design Walls
Kala by Pallavi
STUDIO SORTED
Nack Studios
PURPLELOFTS
DESIGN SYMPOSIUM
9 square designs
Ensemble
Kalopsia
Prominent Space
PS DESIGN & CONSTRUCTION
Intro space
Divyahanda designs
JAD Studio
Jagannadham Interior
BKP homes
La'espace Design Studio
Design Box
LunnArk lighting
MANSVI Automations
DEMIURGIC
R+S Architects
VRUKSHAKUTEERAM LANDSCAPE LLP
In-ex
HI-TECH MODELS (Architectural & Industrial Model Makers)
ACE Kitchens & Wardrobes
DreamCatcherzz
Constro Chem
Aalishan Furniture & Interior
INTERSAN
Cowboy Sofas
CherryStone Mattress
RR Living
Krsna Associates
Design Lab Vyoma
Sarom Fab Pvt. Ltd
Danube Home
SAJID ASSOCIATES
Deco-Arte
J Design Studio
MARUTI DESIGN SOLUTIONS
Dziner kitchens
Meticulous Design
4th Dimension
Lush Interiors
DZIGNS Architecture and Interiors
Live Fabulous
RICHA GARG ASSOCIATES
MWM Spaces Pvt. Ltd.
DIVA Interiors
Bryck Red Design Studio
Dilip Mevada & Associates
Serene Designs and Consultants Pvt Ltd
Happy Living Interiors
Vaastu & Beyond
Brahmi 
Special Awardees 
Organizations 
K N Panchal Contractors
CK Infini Group – Real Estate Developer Category
Build on Infra – Premium Home Construction Category
V ASSOCIATES – Affordable Construction Category
Mavensoft – Coffee Shop & Restaurant Furniture Category 
 Individuals 
Srinu Babu.P, CMD – Happy Living Interiors – Economical Innovative Designer
Vidisha Agarwal, Co-Founder – Bhrami – Emerging Student Entrepreneur Category
Mudit Agarwaal, Founder – Vaastu & Beyond
Surabhi Laddha, Production Designer
Sweety Somashekar, Founder & Managing Director- StructCAD Design and Engineering
Mr. Vinay Kanth Korapati, the visionary founder of Business Mint, expressed his gratitude and excitement for the successful execution of the 46th Awards Show by Business Mint. He said, "The Nationwide Awards have become a platform for recognizing and appreciating the exceptional talent and innovation in the design and architecture industries. We are thrilled to witness the growth and success of these awards, and we remain committed to promoting excellence and driving progress in this sector."
About Business Mint: Business Mint is a leading platform that recognizes and honors achievements across diverse industries. Through their comprehensive events and awards programs, they provide a platform for companies and individuals to showcase their excellence and establish themselves as industry leaders. With a mission to inspire, connect, and empower professionals, Business Mint plays a pivotal role in fostering growth, innovation, and collaboration. Business Mint is renowned for its commitment to recognizing excellence and promoting innovation in various sectors. With a strong focus on fostering growth and creating networking opportunities, Business Mint continues to bring together industry leaders, professionals, and enthusiasts to inspire, learn, and collaborate.
If you have any objection to this press release content, kindly contact pr.error.rectification@gmail.com to notify us. We will respond and rectify the situation in the next 24 hours.