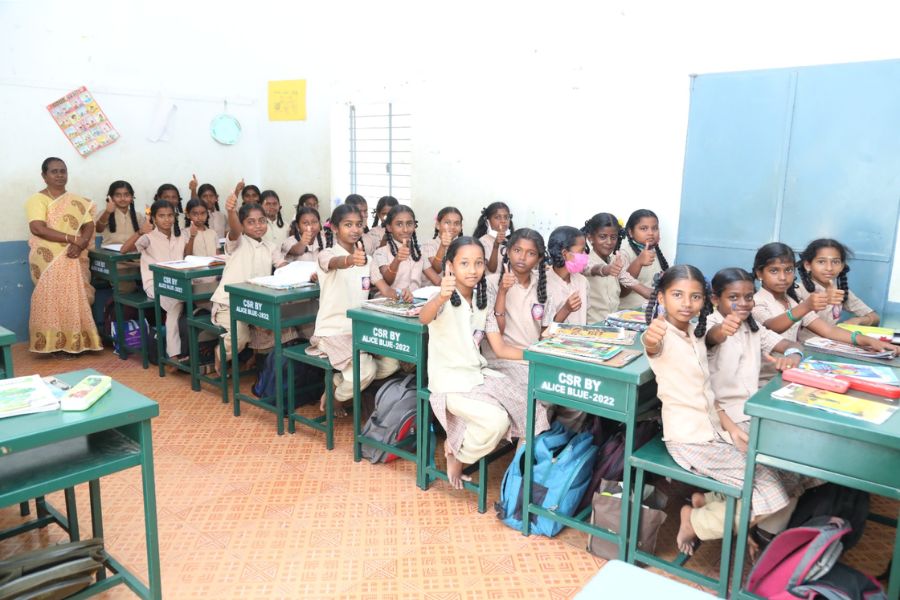 Bengaluru (Karnataka) [India], May 29: While efforts have been made to improve rural education in Erode, Tamil Nadu, several non-developmental crises continue to pose significant challenges. These crises encompass various factors that hinder the progress and quality of education in rural areas. Issues such as inadequate infrastructure, a shortage of qualified teachers, limited access to technology, high dropout rates, gender disparities, and socio-economic factors contribute to the persistent crisis in rural education. Addressing these challenges is crucial to ensuring equitable access to quality education and promoting holistic development among rural students in Erode, Tamil Nadu.
The Bangalore-based stock brokerage firm Alice Blue was one of the several organisations that took the initiative to solve these issues and excelled in doing so. These elements supported Alice Blue, and their passion turned into their strength. As a result, they distinguished themselves from other businesses that had undertaken several initiatives. Alice Blue's dedication to corporate social responsibility (CSR) is an integral part of their business philosophy, and so far, a lot of social improvement projects have been launched by the renowned stockbroking firm in Bangalore. The Erode-registered firm has announced the start of its rural education development initiative in Tamil Nadu for the years 2022–2023. The company, as part of its CSR outreach, has taken the initiative to give developmental initiatives that seek to improve the quality of education by updating school infrastructure, such as smart boards, benches, paintings, tiles, and stages. Till now, it has also had great success in improving the lives of disadvantaged children through its education-focused project.
One of the key non-developmental crises in rural education is the lack of adequate infrastructure. Many rural schools in Erode struggle with insufficient classrooms, libraries, laboratories, and sanitation facilities, which hamper the learning environment and compromise the overall quality of education provided to students. Rural areas also face a shortage of qualified and experienced teachers, which results in larger student-teacher ratios, limiting individual attention and personalized instruction. Attracting and retaining talented teachers in remote areas proves to be a challenge, affecting the overall quality of education.
To address these issues, under the Corporate Social Responsibility (CSR) program of Alice Blue, they have donated smart boards, computers, printers, and other essential items to 32 government schools in Modakkurichi taluk. The company's group CEO, Mr. Sidhavelayutham M, who hails from the taluk, obtained the schools' requirements and fulfilled their wish lists. At the start of FY2022, the company pledged an amount of Rs. 1 crore to improve the quality of education in rural schools. By working with more than 32 rural schools in Tamil Nadu's Erode district, Alice Blue has had an influence on the lives of more than 1200 kids in that time.
The company's primary focus is on providing quality education to the underprivileged children of India. The goal of these initiatives is to ensure that children from less fortunate backgrounds have access to quality education, which is crucial for social and economic mobility. Their assistance made it possible for pupils at these institutions to have access to necessary resources and cutting-edge teaching aids. Numerous youngsters in the area have benefited from Alice Blue's efforts in terms of funding for their education.
Additionally, Alice Blue's CSR initiatives have also played a significant role in enhancing the quality of education in government schools. The company also facilitated the conduct of regular teacher training programs with the aim of improving the teaching methodologies and skills of the faculty across these rural schools. The company has partnered with local NGOs to train teachers on innovative teaching techniques and upgrade schools' infrastructure. These initiatives have had a positive impact on student performance, with many children showing significant improvements in academic outcomes.
In order to give students a well-rounded education, the firm also encourages extracurricular activities like sports and cultural events at rural schools. Alice Blue aims to advance digital education in rural schools. It gives students access to online learning environments, which improves learning efficiency.
In the areas near the schools, it has been helping; the business has also gotten involved in environmental efforts. It has initiated the "Alice Blue Green Initiative," which aims to promote environmental sustainability via projects like tree-planting campaigns with 20,000 trees planted annually and other environmentally friendly efforts, including providing these remote schools with furnishings and infrastructure.
The government, non-governmental organizations (NGOs), and other stakeholders play a crucial role in implementing many initiatives and driving rural education development in Erode, Tamil Nadu. Continuous monitoring, evaluation, and feedback mechanisms are put in place to assess the effectiveness of these interventions and make necessary improvements. One such firm taking the lead on this perspective was Alice Blue, and how well it did, the whole of India reckoned the greatness of this Bangalore-based stock broking firm.
It aligned its CSR initiatives to eradicate this problematic phase from the lives of rural Erode. Their CSR initiative is more than just a way of giving back to society; it is an embodiment of the company's values and its belief in the power of education to break the cycle of poverty and create a brighter future for future generations. Its CSR initiative aimed at transforming education is making a real difference in the lives of many children. Their contributions of ₹15 lakhs and ₹50 lakhs in the first and second waves to the COVID relief fund have also had a significant impact on vulnerable communities. The company's "Awaken Change" campaign is inspiring individuals to make a positive difference in their communities. Their commitment to CSR is an everyday testament to their dedication to creating a positive impact in society.
If you have any objection to this press release content, kindly contact pr.error.rectification[at]gmail.com to notify us. We will respond and rectify the situation in the next 24 hours.