A New Expansion of Healthy Eating: SaladO enters new territory with SaladO Café through Shop in Shop Model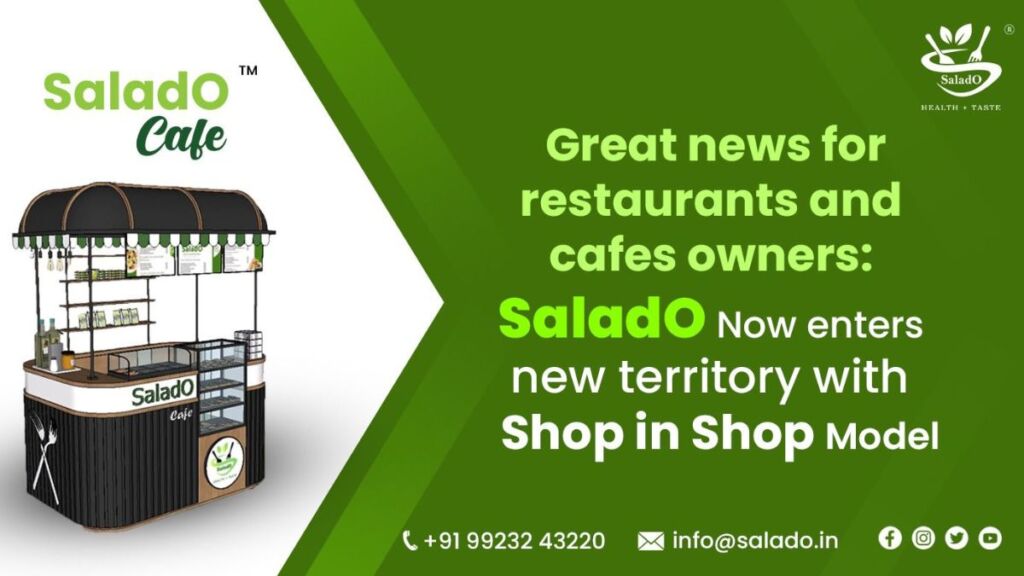 SaladO has always been a go-to destination for healthy salads. From a wide variety of salads, they have been helping people stay on track with their health and wellness goals for a few years. But now, SaladO is expanding with an all-new SaladO cafe with even more delicious and nutritious options.
The exciting news is that they are expanding healthy eating options with the launch of SaladO Café, a parallel brand that will feature a whole variety of salads, wraps, sandwiches, and thick shakes. This new brand will be a shop-in-shop concept, with tie-ups with other businesses, be it with café, restaurants, or food outlets, to offer healthy and delicious healthy food options to customers.
Salado is growing, and here's what you need to know 
SaladO has always been committed to providing our customers with the best possible experience. Salado is now taking a further step in serving customers in a new possible way. The shop-in-shop concept will mean that SaladO Cafe will be located within existing businesses, such as cafes, gyms, or health food stores. They will partner with other such businesses to offer a wide range of healthy meal options.
SaladO café is here to benefit your existing Café, restaurant, and food outlet businesses 
Partnering with SaladO café would mean that existing café, restaurants, or any food outlets around could reach a wider audience and tap into the growing demand for healthy, convenient food options. This will allow these businesses to leverage the existing footfall and reach a wider audience.
A more complete and satisfying menu would mean that these businesses could meet the diverse needs and preferences of customers. Moreover, with all the junk food options around, all the food outlets would be able to provide a healthier offering to their customers.
By partnering with SaladO Cafe, your food outlet businesses can also benefit from your existing customer bases and build new relationships.
Overall, there is huge excitement about the expansion of SaladO through SaladO Café, as it provides businesses and end customers with healthy and convenient options while also catering to a wider range of tastes and preferences.
What will SaladO Café have to offer?
Introducing the delicious SaladO café menu: Salads, sandwiches, wraps, and thick shakes. These menu items are perfect for those looking for a quick, satisfying meal that's still healthy and nourishing.
Exquisite Salads options
Yes, SaladO Cafe will offer a wide range of salads to cater to different dietary needs and preferences. Along with the classic salads to the exquisite ones, we will also offer creative and innovative options that feature unique ingredients and flavours.
Flavourful Sandwiches and Wraps
Let's start with the sandwiches and wraps. Made with fresh ingredients and served on whole-grain bread or a wrap, these menu items are a great way to get your daily dose of veggies and lean protein. Choose from classic veg options to nonveg options; you can feel good knowing that your meal is fuelling your body with the nutrients it needs.
Healthy and delicious thick shakes
And then there are the thick shakes. These thick shakes take things to the next level. Made with all-natural ingredients, they're a healthier alternative to traditional milkshakes. Choose from a wide variety of flavours and enjoy a sweet treat without any of the guilt.
SaladO café is now the ultimate healthy pleasure destination 
Overall, SaladO Cafe is a promising addition to the healthy food market. The shop-in-shop and tie-up concept model will offer a unique approach to serving healthy meals, and the brand's reputation for quality and taste is sure to attract a loyal following.
The market sentiment says that SaladO Café will be a great addition to the brand and brings a promising addition to the market.
Stay tuned for more updates and news about SaladO Café. Bottom of Form
If you have any objection to this press release content, kindly contact pr.error.rectification[at]gmail.com to notify us. We will respond and rectify the situation in the next 24 hours.