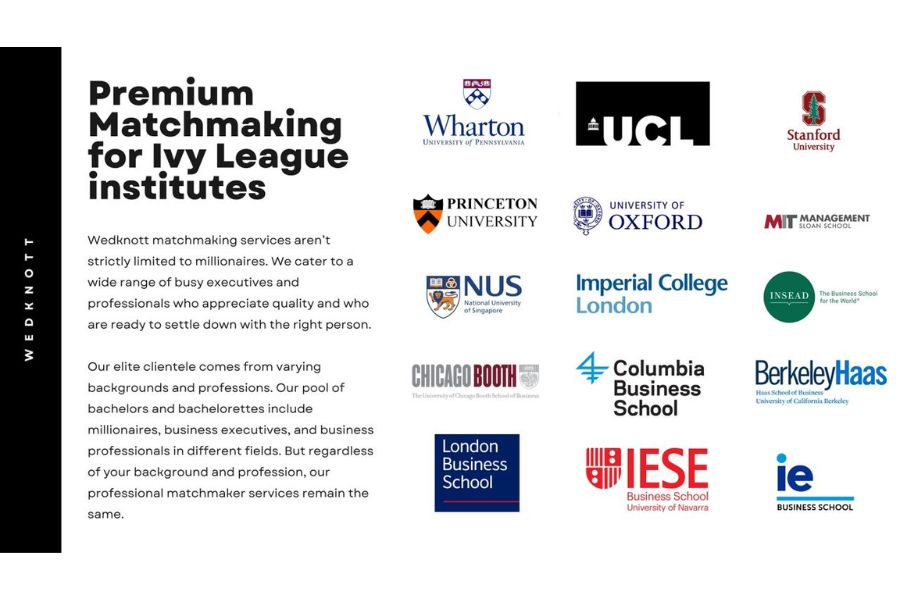 New Delhi (India), April 22: In the fast-paced world of today, where time is a luxury and high-flying professionals have their hands full with demanding careers, finding love can be a challenge. Enter WedKnott – the premier matchmaking service catering to elite business individuals and corporate professionals, offering a personalized and high-quality experience to help them find their soulmates.
WedKnott: Personalized Matchmaking for Discerning Professionals
Founded with a mission to serve high-class business individuals and those hailing from Ivy League institutes, WedKnott has emerged as a trusted and reliable matchmaking service. As the demand for professional and elite matchmaking services continues to grow, WedKnott stands out for its dedication to handpicked, genuine, and verified profiles, ensuring a smooth and satisfactory experience for its clients.
The cornerstone of WedKnott's success lies in its commitment to privacy and discretion. The service understands the unique needs of its clientele and goes the extra mile to ensure that their personal information remains confidential. It operates with the highest level of integrity and professionalism, a fact that is reflected in the glowing testimonials from satisfied clients.
A Diverse Clientele with a Common Goal: Finding True Love
While WedKnott may cater to millionaires, the matchmaking service is not limited to this demographic alone. Its elite clientele is comprised of individuals from various backgrounds and professions, including successful executives, entrepreneurs, and professionals in different fields. What unites these individuals is their common goal of finding the right partner with whom they can share their lives and aspirations.
The WedKnott matchmaking process is designed to accommodate the busy schedules of its clients. The experienced and professional matchmakers carefully assess each client's needs and preferences, taking the time to understand their unique requirements. The process includes in-depth interviews, background checks, and a personalized approach to selecting the most compatible matches, ensuring that each client is paired with someone who shares their values, goals, and lifestyles.
The Power of Testimonials: Happy Clients Matter
The greatest testament to WedKnott's success is the appreciation it receives from its clients. The service has been lauded for its dedication to quality, professionalism, and a personalized approach to matchmaking. The glowing testimonials serve as a reminder of the impact that WedKnott's services
have had on the lives of countless professionals who have found love and companionship.
Embracing Technology to Enhance the Matchmaking Experience
In addition to its personalized matchmaking services, WedKnott is also embracing technology to further enhance the experience for its clients. The service offers a user-friendly online platform, enabling clients to access their profiles and communicate with potential matches securely and discreetly. This integration of technology and traditional matchmaking methods sets WedKnott apart from its competitors and ensures a seamless and enjoyable experience for its clients.
The Future of Elite Matchmaking
As the demand for exclusive matchmaking services continues to grow, WedKnott is well-positioned to remain at the forefront of the industry. With its dedication to quality, personalized service, and diverse clientele, the company is redefining the matchmaking experience for busy executives and professionals.
In a world where time is scarce and finding love can be a challenge, WedKnott offers a beacon of hope for those seeking genuine connections with like-minded individuals. As more and more professionals turn to matchmaking services to help them find their soulmates, WedKnott stands as the gold standard in elite matchmaking – a service that is truly dedicated to bringing love and happiness to its clients.
If you have any objection to this press release content, kindly contact pr.error.rectification[at]gmail.com to notify us. We will respond and rectify the situation in the next 24 hours.